What's been happening in our County?
4th Hastings Guides
The 4th Guides are doing a kindness challenge this term, they did an evening about being kind to ourselves and mental health, this week was random acts of kindness for strangers. Girls who complete five acts of kindness receive a challenge badge put together by 3rd Burnham brownies. Below is a response we received via the Division Website.
I would like to thank the 4th Hastings Guides group for making my day on Thursday 21st June. They were handing out roses to people at Aldi in Ore Village. I found mine on my works van with a message saying I rocked. I had a particularly hard day at work, and it brought a smile to my face.
Thank you
Colin
Bright yellow van driver..
Well done Girls, a credit to Girlguiding Hastings.
Assistant Chief Guide
Meet Emma our new Assistant Chief Guide.

​
Emma started her guiding career as a young leader in 2007. Since then, she's held a variety of roles in guiding, including being a peer educator. Emma's currently a leader of a Senior Section unit and sits on both the Girlguiding Council and the Business Management and Finance Committee for Girlguiding Scotland. She's also a Girlguiding qualified trainer, a county Senior Section adviser and is part of Girlguiding Scotland's international team. Outside of guiding Emma is a solicitor.
I am honoured to take up the role of assistant chief guide. I am passionate about our organisation and know the ability it has to empower, inspire and change the lives of girls and young women. I am excited to continue spreading that message and to meet more of our dedicated and inspiring volunteers and members. -
Emma
CONGRATULATIONS
Our very own M&C chair, Helen Osborne was mentioned in the Queen's Birthday Honours list.
Helen was awarded the M.B.E. for services to adult education in her role as principal at the Friends Centre in Brighton. Congratulations Helen on recieving the award it is well deserved and Girlguiding Sussex East County are very proud and honoured to have you in our midst, Helen who has yet to be presented with her award, but when the day comes I am sure the photo's will soon appear here.
Below is a short extract of Helen's acceptance speech.
Helen has said:
"I am very honoured to be receiving an MBE and this honour represents all that we do here at Friends Centre. I am very lucky to have a supportive team and set of trustees to ensure we are able to help over 1,100 learners each year through our courses and more with those who receive support through our projects".



Helen on hearing the good news!!!
Principal Helen.
Watersports
This Summer has seen Girls take to the water in various forms. The old favourites like Raft building/Sailing and Kayaking were joined by the relativily new sport of SUP stand up paddle boarding. 17 Guides enjoyed a cool summer evening on the Cuckmere where after the activity 3 Girls from the 4th Uckfield Guides were made their promise on the slipway to round of the evening, The activities have been headed up by County water adviser Dorinda Dodd and also Helen Osborne.


#LOL
Over 200 Guides converged on Blacklands on the Royal wedding day to enjoy #lol (laugh on larks / learn on larks / lark on larks) the jury is still out on that one.
The sun shone and sun cream was applied for an action packed day of fun.
Activities included an inflatable obstacle course, flying planes, Swoove, S'mores and craft activities. Also popping by on his very special day was HRH Prince Harry for a photo oppurtunity!!.
Guiding Star
Poppy Parkinson an 8 year old Brownie from Hastings Division was awarded Girlguiding's Guiding Star award at an afternoon tea presentation in June,


Poppy received this special award for her actions in August 2017 when whilst staying with her father he suddenly collapsed.
7 year old Poppy used his mobile phone to call an ambulance, this enabled the Paramedics who attended to resuscitate James (her father) and transfer him to the Conquest Hospital.
Sadly James passed away the following day, but due to Poppy's actions it gave time for the family to say their final goodbye's one thing that arose from this was that James was an organ donor and to our knowledge at least four people have benefited from this.
Poppy now 8 was presented her Guiding star award at a special presentation at the Stade Hall on Sunday.
Sally Christmas, Girlguiding Regional Commissioner for London and South East Region presented Poppy with the award and certificate, Poppy also received a letter of commendation from the Chief Guide.


Also earlier in the year on February 22nd which coincidently is Girlguiding World Thinking day, Poppy was awarded a public Commendation from South East Coast Ambulance service for her actions.
The presentation ceremony was attended by Poppy's family, the Mayor and Deputy Mayor of Hastings, SECAmb, From Girlguiding Sussex East County Patron Sara Stoner, President Glyn Martin, County Commissioner Linda Dupret and members from Girlguiding Hastings Division.
Poppy is a very brave young lady and an inspiration to Girlguiding and has created a lasting Legacy.
The award is given to any member of Girlguiding between the ages of 5 and 26 for courage and bravery under duress whilst facing a difficult situation.
This is only the second award of its kind to be presented in the Region in the past 3 years.

Peacehaven Senior Section had a great day at HQ trialing new activities and having their input into the outlay of the activities.
They interacted with other groups on the new programme and got to see first hand what is in the future for them.




Unfortunately no photos allowed - Have to settle for them on the balcony with Buckingham Palace in the background!
DISNEYLAND 2017
In October half term 2017 a group of 50 Guides, Senior section and leaders from Girlguiding Hastings Division travelled for a four day trip to Disneyland Paris.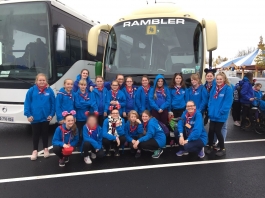 We left Hastings early on Monday morning and travelled by coach to Folkestone where we took the shuttle to Calais. We then drove for 4 hours arriving at our accommodation at PGL chateau de Grande Romaine in the early evening.
The next day everyone was so excited as we were going to Disneyland Paris. We split up into smaller groups, and experienced the exciting rides and shows that the parks offer. We stayed in the parks all day, Meeting Disney favourites like Minnie,Micky and Pluto as well as Pinnochio, leaving very late at night after watching an amazing firework and light show over the Disney castle. It was truly magical. We got back to the accommodation very tired, but went straight to bed ready for an early start the next day.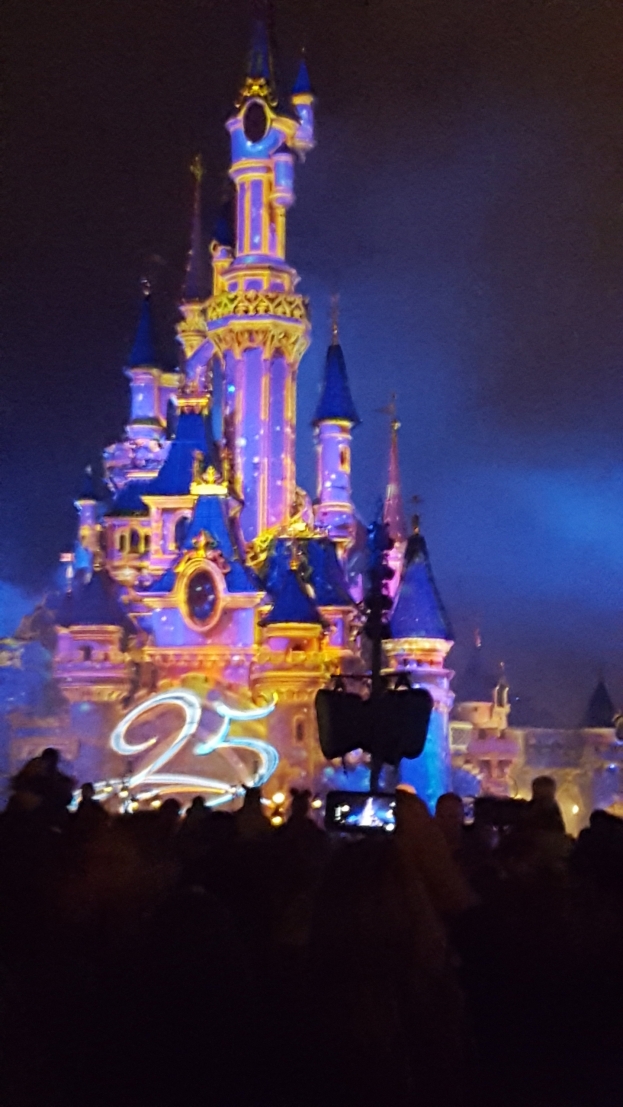 On Wednesday we returned to the parks to do the rides and see the shows we had not seen on Tuesday. We left Disneyland earlier that day returning to have dinner at the Chateau de Grande Romaine. After dinner one of the PGL staff did an indoor activity with the girls. We then had a surprise presentation. One of our leaders Clare had achieved her Queens Guide award. Clare had worked extremely hard to get this award and was presented with it at the Houses of Parliament. As Clare was a leader with the Blacklands Brownies before moving away earlier in the year we wanted to put on a celebration for her from us. So we had a special cake made, and gave her a card and present. It was a complete surprise to her, and nice for us to be able to recognise her achievement.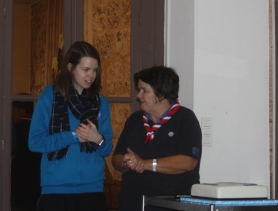 After all the excitement of the day we returned to our rooms to pack as we were sadly going home the next day.
Thursday we left the accommodation waving goodbye to our PGL friends including Heather and Luke who had looked after us so well during our stay. We drove for several hours again finally reaching Calais to catch the shuttle back to Folkestone, stopping for lunch on the way.
We watched films on the coach to pass the time. Late on Thursday afternoon we arrived back in Hastings to meet our parents and carers. We were all very tired but had had an amazing experience.
Switzerland
4th Lewes Guides do Switzerland!

This year, 2017, 4th Lewes Guides celebrated their 70th anniversary. It was a year of celebrations which culminated in a 6 day visit to Switzerland in October.
It was originally planned that we would stay at Our Chalet,
but due to building work at the World Centre we changed plans and stayed at the World Scout Centre at Kandersteg. It was a great alternative and the ease of access from the railway station to the centre, compared to accessing Our Chalet high up the mountain certainly gave it many Brownie points in my book.
It was a busy week, we saw a ice hockey match, went climbing and abseiling and took the vernacular train up the Jungfrau, the highest mountain in Switzerland. Here we visited the Ice Palace where one of our Guides made her Promise, 4,158 metres above sea level.
We did make it to Our Chalet for a visit and pinned one of our 70th anniversary badges to their badge board. From here we hiked across the valley to the famous Trummer Wood carvers at Adelboden, a must see place as the entire ceiling is covered with guides and scout badges and it is here that you purchase the trefoil woggles and name badges.
Weather in Switzerland can be mixed, we saw snowfall and sunshine during our time there. There is plenty to do and activities are easily booked from the UK or via the programme advisor at either Kandersteg or Our Chalet. We purchased a 3 day Scout and Guide travel pass and used this on boats, trains and the bus, transport in Switzerland was really easy to use with the guides.
We had a really great time, organisation was relatively easy, and I would say Switzerland is an excellent choice if you are considering organising your first international.
Lisa Wakeling
Lewes Division
Crowborough Rainbows
Members of the 2nd Crowborough Rainbows recently took part in two CPR awareness evenings.
In the first week two Crowborough First responders Sara Chick and Bloss Spink, came to our meeting and explained to Rainbows what to do if they found someone collapsed on the floor. This led to them showing Rainbows how to do the recovery position and CPR.
The girls loved practising the recovery position on each other and their leaders, and were surprised how easy it was to move an adult. Several parents were practised on at home that evening too!
The following week the Rainbows looked at how to contact emergency services on a variety of phones including old style dial and push button as well as mobiles.
The Rainbows then made their own cup and string phones and used them to practise calling 999.
The meeting ended after a bandaging session, with the 15 girls receiving 'Well Done' badges.

One of the Rainbows said "We now know what to do but our parents might not so we could tell them"
Rainbow Leader Sapphire said
"The girls were so enthusiastic – they all got something really worthwhile from the sessions".
1st Blatchington Guides

We have had a busy year, with a trip to PGL Windmill Hill , the girls had a great time on the zip wire, giant swing, raft building, fencing, canoeing and team building activities, not to mention the midnight feasts in their cabins!


We also had a lot of fun down at Cuckmere Haven on a balmy July evening mastering paddleboarding.


As part of our regular outdoor activities we had a barbeque at the Rookery at Bishopstone, camp fire as Sealarks and shelter building at Friston Forest.



Back inside the patrols had a "Great Guiding Cake Competition" and three of our older girls got their BP awards up at the campsite.


We have had quite a good intake of new girls coming up from Brownies this term and so we're looking forward to introducing them all to the fun and adventure to be had at guides.

Julie Epsom : assistant leader 1st Blatchington guides
Uckfield District
Units from Uckfield have been getting into the Christmas Spirit,

2nd Uckfield Brownies had a fantastic festive afternoon at the Bluebell Railway on their Santa special train.

Each girl received some chocolate coins whilst the leaders received a mince pie shortly after that the girls had a visit from Santa 🎅on the train and received a present 🎁.


The train continued to Horsted Keynes station where the girls got to visit the reindeer, have photos in Santa's sleigh, visit Santa in his grotto and had great fun in the mirror room.


They then travelled back to Sheffield Park and were visited once again by Santa who got them singing Christmas songs and finally they had a go on the Victorian merry go round.

A lovely day had by all.

A fun evening was had by all at 2nd Uckfield Brownies Christmas Party
They hired a bouncy castle disco for the evening.
All girls found the stockings they made last week were filled and they received a present from secret Santa.
As well as party food they made reindeer from soap and flannels.

5 girls got to make their promise on the bouncy castle and we sadly said goodbye to six 10 year old girls who jumped over the toadstool. We wish them all the best for the future.
Thank you to the parents for sharing part of this evening with us, we hope you all have a lovely Christmas and we look forward to seeing you in 2018.


Meanwhile the 4th Uckfield Guides were joined By the Chiddingly Guides for a Winter Wonderland weekend at St. Barts residential Church in Barcombe.



The girls arrived on Saturday morning and we immediately set them to work making paper chains to decorate the hall as well as Christmas crackers,sewing felt stockings, painting ceramic baubles, rolling and printing their own clay decorations,
making pom pom baubles and 3D Christmas cards.


The leaders had also added decorations to the hall, and Christmas elves,


Angus & Flora also joined the party to add some festive cheer. The girls played games, watched Christmas movies and drank hot chocolate before bedtime.

The second day of 4th Uckfield & Chiddingly Guides' Winter Wonderland weekend was all about food! After a breakfast of croissants the girls donned aprons and swirled icing on top of cupcakes to make fairy light cakes, melted chocolate over marshmallows for penguin marshmallows, made and cut gingerbread shapes which, when turned upside down, became rudolph jammy dodgers, and blended gingerbread men with cream cheese to make delicious snowman truffles, complete with rolo top hats.


We cooked and ate Christmas lunch, using the woolly hat place names and crackers made the previous day to decorate the hall, and played a game of 'pass the sprout'.


The girls cleaned and tidied their bedrooms and the sitting area, before gathering all of their creations and presents (hand drawn personalised mugs from the leaders, and stationery sets discovered in their stockings under the tree) together ready for home time. We hope that all Guides enjoyed their weekend and that they have a lovely Christmas! We hope to see you all again in a few weeks time in the new year!
Heathfield District
Wednesday 13th December was a very proud day for Girlguiding Heathfield, as five of their Guides were presented with their Baden-Powell Challenge Award at their end-of-term Christmas Party. The Baden-Powell Award is the highest award a Guide can achieve and it is a genuine challenge for these girls, designed to push their boundaries and encourage them to try new things. All five girls have spent the past year working really hard to achieve the challenge by running meetings at their unit, trying to create more healthy lifestyles for themselves, looking into ways of helping others and the environment and much more. Some of the girls carried out some charity work for Raystede, the animal shelter, raising awareness of what they do and helping raise some money to support the charity whilst others investigated the harmful impact of all our rubbish and went litter picking to try and improve their local environment. At the end of the challenge the girls were required to attend a special Baden-Powell Adventure, so they spent a long weekend with a group of other candidates for the award learning lots of new crafts to bring back to their unit and preparing themselves for the next step of their Guiding journey. Unfortunately Grace was not well enough to attend the surprise presentation, but Lucy, Jasmine, Chloe and Sophie were all thrilled when their District Commissioner arrived to present them with their hard-earned badges and certificates. You can see the four girls pictured with their District Commissioner and proud Leaders Daynna and Aimee who supported them through the challenge. Heathfield District is extremely proud of the girls and all their hard work and was thrilled to have as many as five girls to present this esteemed award to.
SANGAM

Sangam - Developing your Potential 1st to 17th August

On the 1st August 2017, 16 very excited leaders from Sussex East County, including the County and Assistant County Commissioner, jetted off to India, for the experience of a lifetime.


We flew to Mumbai and then took a four hour coach ride to Pune. Sangam was very welcoming and the experience began on 3rd August, with a wonderful welcoming ceremony. We each were given a flower garland around our necks and tumeric powder, in red and yellow, was placed on the centre of our forehead. For good luck we were each given a mouthful of coconut and sugar. Finally we went to light a candle, around a beautiful brass ornament traditionally used by Indian people. Professional photos were taken of this occasion.
Our first experience of Pune, was a ride in a auto rickshaw. A memorable and on occasions quite scary experience, as you weave in and out the traffic. We visited a paper factory which made traditional paper with recycled cotton. It was fascinating and many old methods were used, in a labour intensive factory, with many Indians doing very simple jobs. On the next day we ventured into Pune city, which was very busy. We experienced a bus ride, which was packed with people. As we walked through the street bazaar, it was festooned with colour and excitement. We went into a beautiful sari and punjabi suit shop, with all of us ordering one or more of these items, to be made to measure by the tailor. I think we were all shocked at how cheap everything was in the shop. Some of us were carried away and ordered loads of items!

We were treated to a meal out in a vegetarian restaurant with delicious curry and sampled the famous lime soda. Then we had an evening auto rickshaw ride home which was memorable.


The next day we chose our community projects. I was at a construction site creche, with around 100 people. The children and staff were delightful and so full of enthusiasm for our activities. We started a project with the older children, for three days on conserving water. We made water catchers, to see how much water they could collect, we made filters and conducted a range of simple science experiments with the children. In the afternoons we did creative work making friendship bracelets, Indian God Gnash posters and Indian flags for independence day on 15th August. It was great fun and also brought home to us the simple but happy lives Indian people lived. They gave us all paper flowers as we left. A memorable few days where we felt we made a difference, in a simple way.

As our time at Sangam drew to a close, we did the Pune Challenge in a auto rickshaw to visit certain sites around the city. It was great fun. Over the course of the days at Sangam, we also had sessions on WAGGGS issues, like Free to be me and Stop the Violence.
On the last day we each received a certificate and a pin, to remember our time there, in such a magical place.

We made many new Girlguiding friends from Herts, Staffs and Essex.
As we left Sangam we took a coach to Mumbai and stayed in the Taj Mahal Palace Hotel. What a beautiful place! Pure luxury. Everyone had cocktails and a lovely meal in the restaurant, by the pool.
The beds and air conditioning were heaven! We saw India gate and the hotel was lit up with green, white and orange lights to symbolise the Indian flag for independence day. The next morning we travelled to Mumbai airport, to take the plane to Delhi just an hour and 20 minutes by air. We arrived at our hotel, which had a supermarket underneath and parade of shops.

The next day we went to old Delhi to have a bike rickshaw ride, which was great fun and so busy, bright and vibrant through the spice bazaar. We visited a mosque and Sikh temple, which served 7000 meals a day, to anyone rich or poor who lived or worked in the area. We had never seen such big pans and an amazing flow line of volunteers to make it happen, quite inspirational. The next day we travelled to Agra to see the Taj Mahal. It was also the County Commissioners birthday, so she had Happy Birthday sung to her on entering the coach and had a delicious cake, at the restaurant where we stopped for a meal. A lovely surprise.


We were taken to a luxury hotel in Agra and again enjoyed a lovely evening. We saw the Taj Mahal at sunset, in the garden opposite and then early the next morning went at sunrise.
Something that will forever stay in my memory, along with sitting on the famous bench where Princess Diana, had her immortal picture taken.
Special thanks to Lisa Wakeling and Janet Whittle for organising such a splendid and memorable experience.
Linda Dupret Girlguiding Sussex East County Commissioner

SUP
Stand Up Paddle boarding

The new water activity for Girlguiding Sussex East County.
Paddle boarding is a new activity added to the County Calendar.
10 Guides and The Senior Section girls. 'tested the waters' of this relatively new sport on a warm summers evening on the River Cuckmere at the Seven Sisters Country park. The girls had a briefing about the equipment and how to use it then set of down the river, most of them stayed upright! there are plans to make this a permanent feature of the Activity programme.

EXPLORE
More than 500 Rainbows descended on Blackberry Farm at Whitesmith near East Hoathly.



Blackberry farm was given over exclusively to the Rainbow Section to celebrate their 30th Birthday.
The Girls took part in activities laid on by Blackberry farm including feeding animals, barrel rides, pony rides and animal handling, as well as going on a tractor/trailer ride, also enjoying the adventure play-park.



Other activities the Rainbows enjoyed included Circus Skills, pedal go-karts and a quiz.
The day finished with a closing ceremony which included a singalong of popular Rainbow songs and a special presentation to Florence Tuesday from Uckfield Rainbows, and Isla Beckingham from 1st Hellingly Rainbows. Two Rainbows who jointly designed a special badge for the day, one of which was given to each Rainbow and leader who attended.
The Rainbows went home with a goodie bag and happy memories of the action packed day.


Special thanks must go to Elaine Westgate and the core team put together to make this a memorable day for our youngest section.
2nd St Leonards Guides 100th Birthday Party
More than 100 people turned up to a special Birthday Party at Sacred Heart School recently to help the 2nd St Leonards Guide unit recently celebrated their 100th Birthday.
Guide Leader Gill Clare welcomed old and new guides to the party, on display were Guide Uniforms covering the 100 years, Photo's and momentos from Guide activities and camps from across the years.
The guests were treated to tea, sandwiches and cakes.
One ex Guide made and donated the special 100th Birthday cake for the party
The party was also attended by Linda Dupret County Commissioner, Who presented long service awards To Peter Clare, Gill Clare and Carole Martin.
Also receiving awards for their Baden Powell challenge award were Guides Mia Elliot, Megan Perkins, Jasmine Robins and Erin Ward.
Senior Section Members Charity Hammans and Hannah Fenton also received their Young Leader Qualifications.
Linda said "It was wonderful to join 2nd St Leonard's 100th birthday. To see the range of photos and memorabilia from over the years on display that showed the devotion and dedication of our leaders to arrange such a varied menu of activities, for several generations of guides. It was a particular pleasure to present Gill and Carole with their 40th Year service awards and Peter 20 years service award. Also to present girls with Baden Powell and Young Leaders Awards. They currently have achieved 94 Baden Powell awards over the years and they aim to reach 100 over their centenary year and I wish them great success in this challenge. Congratulations 2nd Leonard's Guides".
Gill said "It was interesting to catch up with so many ex Guides and find out what they are doing now. It also brought back many happy memories"
The Guides would like to thank Girlguiding Sussex East County archive for the loan of the past uniforms and also the many ex Guides who turned up to the afternoon
and make it such a special occasion.
2nd St Leonards Guides Disneyland Trip
After nearly 18 months of planning and fundraising, Forty Members from the 2nd St Leonards Guides started celebrating their 100th birthday celebration year by going on a four day adventure to Disneyland Paris.
The group set of on a Eurostar train to Paris and after boarding a coach they arrived at the Explorer Hotel at the resort
Monday saw the group advance on Disney's Magic Kingdom, Enjoying the themed lands in the park many Guides braved the fast rides whilst others preferred the more gentler rides.
After watching the Parade down Main Street the group went off to Planet Hollywood for a meal and rest before returning to the park for the spectacular firework display.
The following day it was the turn of Walt Disney Studios to welcome the Guides,
Where more fast rides and shows awaited them, the Tower of Terror is definitely not for the fainthearted.
After another action packed day, the group returned to the Magic Kingdom to watch the fireworks for the last time.
The final day of the 4 day trip the Guides boarded the 'bendy' bus for last minute shopping in the Disney village. The coach returned the group to the Gare du Nord for the Eurostar journey home.
The tired but happy Guides arrived at Ashford International with happy memories of the adventure to be collected by their parents.
Gill Clare (Guide Leader) final comment was "What a fantastic way to celebrate the 100th Birthday of our Unit, We have done it – we lived the dream".
6TH HOVE SENIOR SECTION SILVER DofE
Lauren from 6th Hove Senior Section was one of five senior section members who walked from Billinghurst to Warninglid in May half term; an expedition for the Silver Duke of Edinburgh award.
"

We were very lucky for the most part with the weather. It being sunny on the first and second days, allowing us to take our time and explore around our two campsites

Nowhurst

Horsham Guides campsite and Beacon Hill Horsham Scout campsite

. We took some amazing pictures of the sunset and were able to do yoga on our sleeping mats. The final day had awful weather. Our waterproof jackets were waterlogged. Our feet swimming in water, and our bags a kilo heavier with water. We powered through, finding slight shelter for a quick lunch. We all were drenched. But then we got to go home, have a bath and put fresh dry clothes on. Despite the challenges, it was fabulous. Yes, cold and wet at times, but I enjoyed it massively, we sung a lot and got to gossip with my friends." - Lauren, 6th Hove Senior Section.


To find out more about the Bronze, Silver and Gold Duke of Edinburgh awards and how the challenges fit with many different parts of Guiding click: https://www.girlguiding.org.uk/seniorsection/whatcanido/awardsandqualifications/dofeaward.html​

Why not tweet your own DofE story to Sussex East Guiding https://twitter.com/GuidingSussexE or post to our facebook page: https://www.facebook.com/Girlguiding-Sussex-East-County-176759555863775/?fref=ts&ref=br_tf
PICKETTS WOOD ACTIVITY DAYS
On 24th and 25th April Girlguiding Sussex East County ran two days of activities at their county campsite: Picketts Wood for 250 Rainbows and Brownies.
Each year the committee run two specific days for Rainbows and Brownies to be able to explore the beautiful campsite. This year's theme was 'wood and water' and girls were able to try activities such as blowing and bouncing bubbles on your hand, walking on a slackline, water puzzles, cooking drop scones on a fire, toasting marshmallows to make smores, making wooden keyrings and many more activities.

This year we were joined by Laura from RSPB who ran sessions on bugs and bluebells. It was great to have her as part of the day to extend girls' experience of the outdoors. By taking part in all of these activities the girls also got to get their Growing Up Wild Spring badge.

"

I just wanted to say a really big thank you to you and the Picketts Wood team for an amazing day in the woods on Sunday. My Rainbows had a really fun day and didn't really want to leave!

I thought the activities were very well thought out and it was wonderful to see some of my quieter ones grow in confidence with the gentle encouragement of all the helpers.

It is my first year as a Rainbows Leader and the first time

i've

taken them to a

Girlguiding

day out and my experience was really positive in every way so thank you all for all your hard work and creating good, fun memories for my girls and me."
-

Jane McMahon,

24th

Eastbourne

Rainbows
SLEEPOVER SAFARI
14 members of The Senior Section aged 14-19 from across the county took part in an overnight adventure at the Lookout Lodges at ZSL Whipsnade Zoo. The group travelled by mini bus, and were able to have a quick look around the zoo before booking in at the Lookout Lodges where they warmed up with hot chocolates!
After a welcome talk they settled into their lodges and prepared for their safari tour! On safari they met the bongos and white rhinos, before

getting on the

safari

bus to go round the Asian zone of the zoo, which is a unique part of the Lookout Lodge Experience. They even got to see the tigers!

After dinner they set off on a torch lit walk of the zoo where they saw flamingoes inside for the night (so they didn't get blown away or cold), Bruce the Moose was fast asleep, and the cheetahs were all inside their hut. They then went back to visit the white rhinos again to see them settling down for the evening.

The group woke up bright and early in the morning for breakfast, then helped to feed the chimps and brown bears! After that, they met a lovely group of baby lemurs and then explored the zoo in groups. They had one last tour of the Asian zoo before heading home.



"I've had a truly amazing time. It is an amazing opportunity for animal lovers such as myself, especially the night tour. The zoo staff were friendly, passionate about the animals and their welfare and very knowledgeable about the animals they introduced us to.

The lodges we stayed in were

cosy

and clean, unlike any accommodation I have stayed in during a guiding trip.

I loved the animals, the baby giraffe,

Nuru

, being my

favourite

.

Overall, I have really enjoyed this trip. Thank you to all those who made it possible. A wonderful way to kick off The Senior Section Spectacular." - Laura, Girlguiding Weald.











SPARK 2016
Several groups of Rainbows, Brownies, Guides and Senior Section members from Sussex East joined hundreds of fellow Girlguiding

members in London this weekend to kick off celebrations for 100 years of The Senior Section.
Over 5,000 girls and young women aged five to 25 took part in the celebrations at Alexandra Palace on Saturday 20 and Sunday 21 February, where a huge girl-only festival was held to kick off celebrations for 100 years of The Senior Section. The two-day event, called Spark, saw the girls step out of their comfort zone and take on adventurous activities such as bouldering, bungee trampolining and zorbing.
Open to all girls and young women aged 14 to 25, The Senior Section offers a host of amazing opportunities to older girls in guiding – from international travel and adventure to
advocacy and leadership skills.
Over the past 100 years, Senior Section members have witnessed the signing of the Treaty
of Versailles, swum the Channel, attended the UN Convention on the Status of Women, and represented Great Britain at the Olympics. Celebrations will continue across the UK until October, taking in mountain marathons in Scotland, a carnival fiesta in the Midlands and a